Nyamirambo Women's Center located in Kigali Hub as per the Rwanda tourism map. NWC is a Rwandan local NGO launched right at the end of 2007 by 18 women living in Nyamirambo suburb of Kigali. NWC's mission today is to provide education and training to disadvantaged women so that they can gain better opportunities for employment.
At the beginning of 2014, NWC created community library offering books in Kinyarwanda, French and English to encourage reading a mong youth and promote the idea of "One child One book" in a country where children do not have the opportunity to read and discover the world due to limited access to books. At the end of 2014, NWC created Umutima Cooperative which focuses on sewing activities to create job opportunities for women trained by the center. NWC & Umutima address gender-based violence, gender inequality and discrimination, problems faced today by many Rwandan women. To fulfil its mandate, NWC offers to the community different activities, such as free classes in literacy, English, basic computer skills, handicrafts and sewing, empowerment training on gender-based violence and training on community-based tourism. Nyamirambo Women's Center offers wonderful tourism experiences throughout Nyamirambo community walks: Nyamirambo walking tours (day & night), cooking classes, special cooking class, basket weaving, sewing experience and Nyamirambo-Mount Kigali Adventure.
NWC and Umutima Cooperative have 70 members, created 56 jobs, 200 indirect outreaches. This organisation has trained 5,832 in embroiderers weaving, designers, hairdressers, tour guides, and entrepreneurs. The center has outreached to 10,000 local communities through advocates for gender equality and access to opportunities for women and girls, business opportunities for all, leaders fighting against gender-based violence, health, and hygiene. NWC 3,600 international tourists served annually.
NWC-Umutima Cooperative have a big dream to set up an Incubation Training Center which will serve girls and women across the country. The center will embrace women-Led Sports tourism with focus on biking and bikes' mechanic, as well as raising the awareness of girls to consider wood art, and other areas that by gender bias were traditionally seen to be for men. 
NWC to mentor other women across the country
Nyamirambo Women's Center as a successful organization receives several communities coming from all corners of the country for study tours to harness their hands-on skills in handcraft.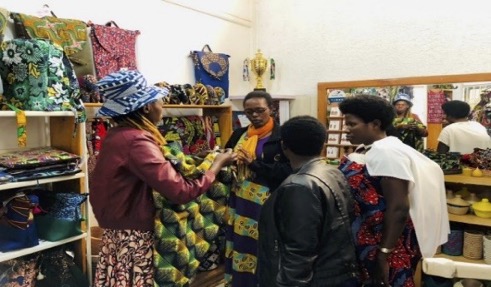 Study tour for women in tailoring program from IVOMO in Nyamasheke
The center serves various individuals who come to learn from its lived experience and acquire hands-on experience. The center receives students on study tours, students and researchers who focus on community and women's empowerment, media houses interested in similar programs.
This organisation outreaches to beneficiaries out of its neighbourhood and provides jobs and businesses opportunities. For this, the center works with women in the remote areas such as Rwamagana, Rulindo, Nyanza and Huye to design and make good quality products, as well offering them an opportunity to showcase those products in the souvenir shop at the center. In its plan to outreach bigger number, NWC is organizing an international symposium to take place in Serena on 20th October 2023, with the goal of inspiring and empowering women through entrepreneurship.